1st Night at The Dollhouse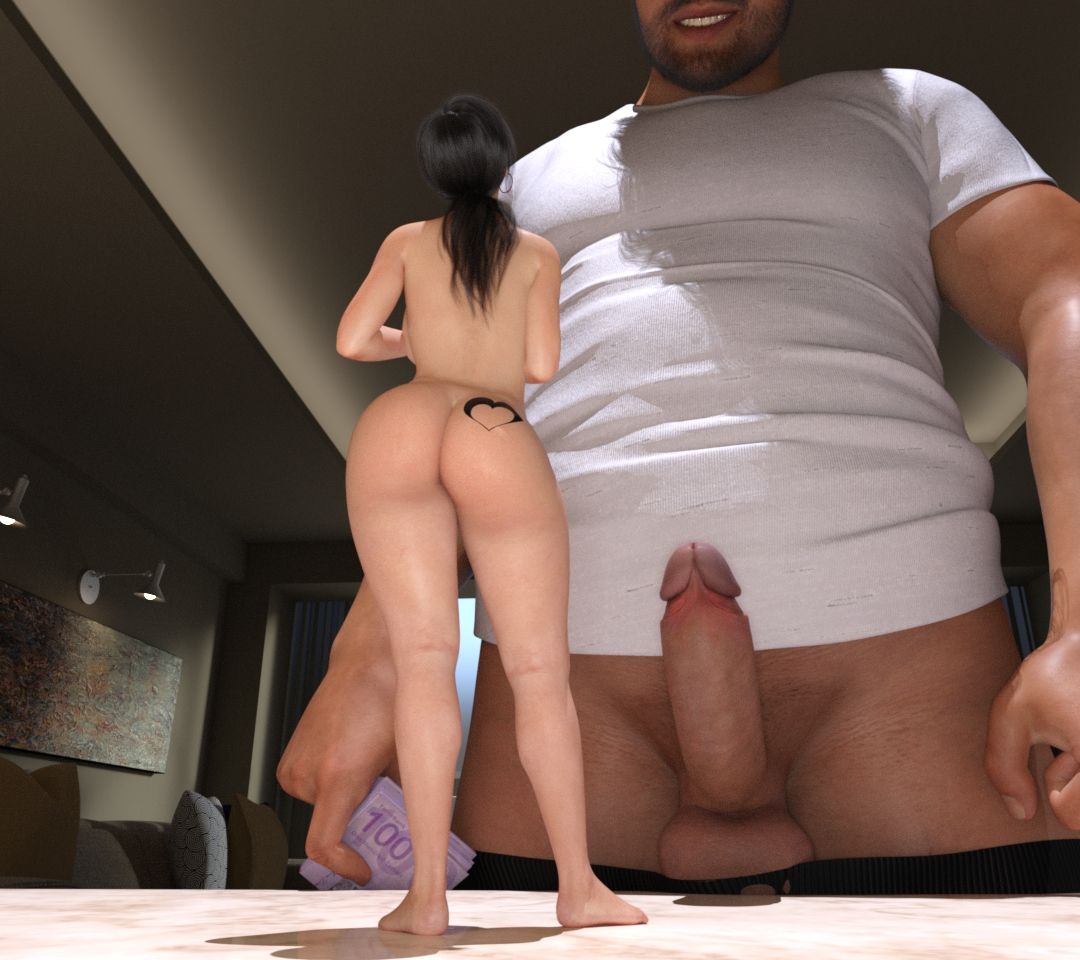 Jessica nervously stood on the marble table. She stood in silence- the fan blades spinning calmly humming about. Jess could feel the winds brush around her naked body, constantly reminding her of her state. This was the first time Jess had shrunken down, scanning around the room and looking at the once small objects in her everyday life that now tower over her. She stretched her arms, feeling the kinky collar around her neck again.
The doorknob to the door began to twist and Jess watched the door slowly and silently ease open. A, to her, gigantic man entered through the doorway, not really paying much attention to her as he walked to the middle of the room to set something down. He took a light breath before cracking his knuckles and turning around. His eyes scanned the opposite end of the table where Jess stood, before scanning again to meet his gaze with her. The giant man grinned greatly as he began to walk over. Jess could already notice something twitching underneath his sweatpants. She gulped as his calm steps sounded like terrifying booms- his massive stature stealing all the light and casting a shadow over Jess' diminutive stature.
"Well, well, well." The giant man said, lightly chuckling. "The boss must really like me to let me interview such a nice piece of ass like you."
Jess didn't really know what to say. She wanted to be annoyed for being called such a thing but for the line of work she's going for, that's an amazing compliment. His giant form terrified her too, keeping her throat caught. Her hands fidgeted about as she watched the giant just stare down at her for a couple of seconds, slightly touching his crotch.
"I'm told you're Jessica?" He asked.
Silence.
"Speak up girlie! I'll be nice to ya today, but some of the boys don't like having to repeat themselves."
Jess began to sweat. "Oh… um- hehe yes that's me. Hiiii……" Jessica said incredibly nervously. The giant laughed.
"Good. So I read on your application you're here because you want the dollhouse to look after you, hmm? Well you certainly picked a great place for that. Me, the boys and most importantly, the boss, will look after your every need; so as long as you tend to ours. The rules are simple here: If we're happy with your performance today, I'll send you off to do your usual paperwork. Once you sign your name on that dotted line sweetie, you become our property. You're still free to live life as you please, but you are expected to drop everything you're doing when called upon. We let you gals roam free in the world but with a body like yours, you're not leaving the dollhouse for a good while. All the boys are gonna want to fuck ya good, so you'll likely have a busy schedule ahead of ya, hehe. Rule number 2. Just like how your time is our property, so is your body. If the boss wants your tits or ass bigger, you're getting it done. Rule number 3. Our kinks are your kinks. You're our submissive little slut and we get to use you how we want. One of our boys wants his feet licked? You lick it. They wanna jack off while you do your bodily business? Put on a fucking show for him. They wanna roleyplay snatching you off the streets and using you however they want? You better fucking sell that terror. All in all, you're our little plaything and we do what we want with you. You follow these rules and you'll never have to worry about a thing. The house will cover any and all expenses for you. You make money for us, so we can make money for you. Oh and hehe, I hope you're not camera shy to live streams."
The giant said. The words coming out of his mouth absolutely terrified Jessica. She was basically being stripped of all her rights to become a plaything to giant men. But the thoughts of never having to ever pay for a single thing was a delight to her ears. She could get whatever she wanted on her off days.
"Y-yes, sir!" Jessica said.
"Good. Now, girlie, most men here at the dollhouse want to do 1 main thing with their dolls…." The giant said as he reached for his sweatpants. He pulled it downward to reveal his massive, erect cock.
"So this here interview is so see how well you do it. Get me excited and cumming as quickly and efficiently as possible and I'm sure you'll pass with flying colors." The giant pulled out a wad of cash from his pocket and held it in his hand.
"You get paid for today, even if we don't want you at the end of the day. Courtesy from the boss. Also morale for you to pleasure me right so you know what kind of riches to expect in life. It's your first day so I'll be easy on ya but god I wanna fuck you so bad, so I don't think you'll need to try too hard here. First, I want you on my cock, humping and grinding on it. I wanna feel your pussy juices coating my cock. Next, you get on your knees and massage my balls like a good little slut. Don't miss a single fucking spot. I want your body smelling like my musk when we're done. And lastly, I need to know how that tongue works- so I want my asshole licked good. Get me going nicely and we'll see if you can handle my load standing up." The giant said. Jess nodded and in an instant, the giant grabbed her body. He groped her, invading her personal space as he rubbed and pinched her body, spreading her legs to get a close inspection of her asshole. He then slammed her body on his cock.
"Lets see what you got."
posted in Artwork